and 536 posts.


Sometimes I go back into my blog archives to find a certain post and I end up reading my own blog as if it was someone else's. It's hard to believe that two years ago on August 20, 2007, I posted a really lame post that indicated I hadn't a clue what the heck I was doing on this blog. My posts had no comments and no readership in those days. But, so much has happened since those early days! I can't believe people actually read my blog and care what I have to say.

A year ago today, I totally missed my own blogging anniversary! Time really does fly. Today marks the second anniversary of starting this humble blog and this is the 537th post on this blog!

Of course, this blog would be a lot less fun without all of your generously supportive comments/emails, all the laughs, friendship, and inspiration you have given me. What keeps me coming back to blogging day after day is
YOU!!!
Thank you to all my amazing blogging friends that have been here from the beginning, and also my new ones. It has meant so much to me! I couldn't have done it without you guys... so
thank you, thank you, thank you!!!!!!!!
I definitely appreciate that. And it's probably why I stay.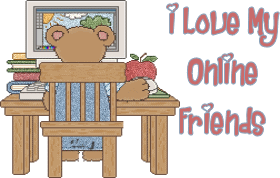 And now, everybody sing!

Happy Blogoversary to you, Happy (I can't hear you) Blogoversary to you...
*LOL*